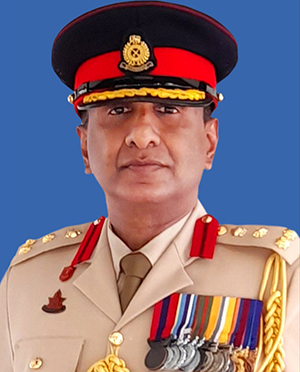 Brigadier M A D J D Gunathilaka RSP USP
Brigadier Jeewan Gunathilaka was born on 09 May 1972. As a proud product of Mahanama College, Colombo, he became one of the strenuous students who excelled in all studies and extracurricular activities by illustrating talents and skills in various streams during his school life.
Having enlisted in the Sri Lanka Army Regular Force on 02 January 1991 as an Officer Cadet of Regular Intake 35, he underwent basic military training at Sri Lanka Military Academy. Upon the completion of his military training, he was commissioned to the Rank of Second Lieutenant on 29 August 1992 and posted to the 4th Battalion, the Vijayabahu Infantry Regiment.
During his illustrious military career, Brigadier Jeewan Gunathilaka has held a number of significant command and staff appointments that are as follows:
General Staff Officer II – Directorate of Rehabilitation Army Headquarters
Officer Commanding Regimental Institute Wing – Regimental Centre VIR
Staff Officer I – Directorate of Army Dental Services Army Headquarters
Commanding Officer – Headquarter Battalion VIR
Commandant – Abimansala 2
Staff Officer I (Administration) - Regimental Centre SLAMC
Staff Officer I (Administration) - Regimental Centre VIR
Commandant - Mihindu Seth Madura
Commandant – Abimansala 1
Commandant - Ranaviru Sewana Ragama
Brigadier Jeewan Gunathilaka has rendered his much dedicative contribution as an active member in several major military and humanitarian operations conducted by the Sri Lanka Army against LTTE terrorism and is awarded with Ranasura Padakkama and Uththamasewa Padakkama for the valor and noticeable bravery of military nature in the battlefield.