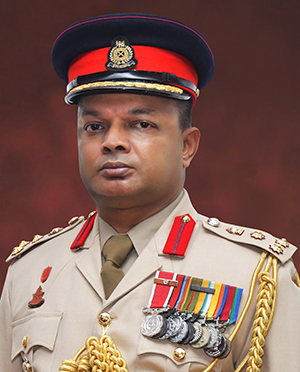 Brigadier S R B Aluvihare RWP RSP ndu psc
Principal Staff Officer – Sri Lanka Army Volunteer Force
Brigadier Rohitha Aluvihare RWP RSP ndu psc assumed duties as the Principal Staff Officer of the Sri Lanka Army Volunteer Force on 31 August 2020.
Brigadier Aluvihare is one of the fine products of Maliyadeva College, Kurunegala. As a student, he had been actively engaged in sports and extracurricular activities including athletics, cricket and school cadetting. Upon completion of his secondary education, he joined the Sri Lanka Army on 26 July 1988 as an Officer Cadet of Intake 30. After completing the basic training at Sri Lanka Military Academy and Indian Military Academy, he was commissioned as a Second Lieutenant and posted to 5th Battalion Vijayabahu Infantry Regiment (VIR) in March 1991.
During his long and illustrious military career, he has served the Army by holding various appointments in different capacities, both in high intensity operational situations and in other areas, relevant to the rank and the seniority. The appointments began from Platoon Commander in 5 VIR, Intelligence Officer, Company Commander in 5 VIR and 7 VIR and the Second in Command in 7 VIR. He has participated in various operations during his service and some of the major operations were Operation Sathbalaya, Operation Riviresa, Operation Edibalaya and Operation Jayasikuru. This Senior Officer as the Commanding Officer of 4 VIR actively participated in the Humanitarian operation which ended the three decade conflict and defeated the LTTE terrorism. Being the Commanding Officer of 4 VIR, he played an active role as a leading battalion commander under 53, 57 and 59 Divisions, TF 2, TF 4, and finally TF 8 which he led his battalion in many decisive battles. He finally led his men to kill and recover the body of LTTE leader on 19 May 2009 at the mangroves of Nanthikadal lagoon.
Brigadier Rohitha Aluvihare was subsequently posted as a Brigade Commander to 571 Infantry Brigade at Kilinochchi and later to 553 Infantry Brigade at Periyapachchipalai where he commanded till August 2019.
Brigadier Rohitha Aluvihare has served in Sri Lanka Military Academy (SLMA) Diyatalawa from December 1999 as an Officer Instructor and a Company Commander disseminating his knowledge to a number of Officer Cadet Intakes. Later, he served as the Chief Instructor of SLMA and Commanding Officer of the Officer Cadet Wing SLMA from August 2013 to July 2016.
The various Staff appointments held by Brigadier Rohitha Aluvihare in field formations, training schools, Regimental Centre and AHQ during his career includes Academy Adjutant at SLMA, Regimental Adjutant at RHQ VIR, Brigade Major of 222 Brigade, General Staff Officer-I at the Directorate of Operations and Colonel General Staff at the Directorate of Operations. He also served as a Military Staff Officer in the United Nations Stabilization Mission in Haiti in 2012/2013.
This Senior Officer had acquired profound military knowledge by attending a number of local and foreign military courses including Officers Transport Management Course in Bangalore, India, Young Officers' Course in School of Infantry and Tactics in Quatta, Pakistan, Junior Command Course at College of Combat in Mhow India, Senior Command Course in Nanjin, China and graduated in National Defence University Beijing, China (Defence and Strategic Studies Course). He has also obtained his graduation from the Army Command and Staff College, Sri Lanka in year 2004.
In recognition of his bravery in the battle field and his dedicated service and loyalty to the Organization, he has been awarded Rana Wickrama Paddakkama four times, Rana Sura Padakkama, East Humanitarian Operation Medal, Wanni Humanitarian Operation Medal, Purnabhumi Padakkama, North and East Operations Medal, Riviresa Campaign Service Medal, 50th Independence Anniversary Medal, Sri Lanka Army 50th Anniversary Medal, Sri Lanka Armed Services Long Services Medal, Videsa Sewa Medal and United Nations Medal for serving in Haiti.
Brigadier Rohitha Aluvihare is married to Thushara Yatiwawala and blessed with two daughters (Mevuna and Mindana).