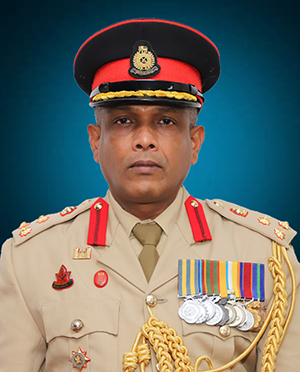 Brigadier P N Godellawatta USP psc
Principal Staff Officer – Sri Lanka Army Volunteer Force
Brigadier P N Godellawatta USP psc is recognized as an exceptional personality who is consigned to serving this motherland, moulded by the prestigious Sri Lanka Army. In retrospect the life of the Senior Officer, first and foremost Alma Mater, Katukurunda Dharmapala Vidyalaya, Kalutara where he laid the foundation for a successful way forward at his childhood, is honoured so ever. He received his secondary education from the Royal College, Colombo – 07 where thousands of dispositions are groomed to be sprouted with outstanding identities. Bidding adieu to the life that he spent as a student, he enlisted in the Sri Lanka Army as an Officer Cadet with KDU 8 on 03 November 1990. After successfully completion of the basic military training, he was commissioned as a Second Lieutenant on 12 November 1992, and was posted to 6th Field Engineer Regiment.
During his 30 years of tenure, he has been performing duties in the appointments which consist of various feasibilities depicting his uniqueness and strengths conferred to the respective ranks and obliging to the norms and customs of an Army Officer. Initially, he held regimental appointments of Troop Commander, Squadron Commander of 6th, 7th, and 8th Field Regiments and commanded 7th Field Regiment. Beside the unit line appointments, he performed duties as an Instructor at the Sri Lanka Military Academy. As a Directing Staff, he held the office at the Defence Services Command and Staff College, and   duties as a Director Academics at the Sri Lanka Military Academy where he once has served. Heading through his journey,he served as a Staff Officer and held the Grade II appointments at the Military Secretary's Branch, Army Headquarters. Apart from the above, he extended his duties as a General Staff Officer I, task Force 8 (68 Division). Exemplifying his command and control upon the standing of his career, he took over the duties as the Brigade Commander, 515 Brigade.
In addition, his professional outreach in local and international arena is precise, and such exposure indeed strengthens to a perfect stance beyond his conventional role and task. The opportunities which he received to follow Young Officers' Course - India, Mid-Career Commander Course – Pakistan, Combine Officers' Bomb Disposal Commander Course – India, Mine and Blasting Engineer Command Course – China and International Mine Action Standards Level 3 - United Kingdom provided immense value and credibility for a strong upgradation of his military career.The Senior Officer is professionally sound and holds the Bachelor of Science (Defence) in Civil Engineering and Master in Bachelor of Arts (Logistics).
He has achieved qualifications in Motor Transport Officer Course, Battalion Support Weapon Course, Unit Administration Course, Unit Intelligence and Security Officer Course, International Humanitarian Law/Human Resources Course, Advanced Military Technology Courseand Diploma in International Humanitarian Law andHuman Resources. Further,he has qualified in Passed Staff College approaching to a significant destination.
Brigadier P N Godellawatta USP psc was awarded with Uttama Seva Padakkama for the devotion to the duty and the unblemished conduct illustrated over not less than 15 years continuous service.
Brigadier P N Godellawatta USP psc is married to Nilmini Godellawatta and blessed with two daughters.