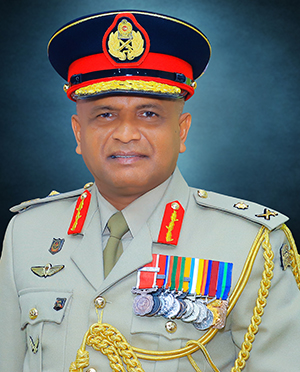 Major General D G S Senarath Yapa RWP RSP ndu
Major General DGS Senarath Yapa RWP RSP ndu assumed duties as the 49th Commandant of the Sri Lanka Army Volunteer Force with effect from 15 June 2022.
Major General Senarath Yapa was born on 2nd June 1968 and he is a proud product of Piliyandala Central College. During the period of schooling, he has excelled in academics and athletics earning honour and fame to his Alma Mater.
He joined the Sri Lanka Army as an Officer Cadet on 16th March 1987 under the Intake 27. Upon successful completion of the basic military training at the Sri Lanka Army Military Academy, Diyatalawa, he was commissioned in the rank of Second Lieutenant and was posted to the Gajaba Regiment (GR) which is an elite infantry regiment of the Sri Lanka Army in 1988.
He assumed duties and responsibilities as the Platoon Commander of 3rd Battalion of Gajaba Regiment on 10th December 1988. In view of accomplishing errands of a true serviceman, young Keterian joined the Sri Lanka Army Special Forces (SF) which is ready to undertake contingency tasks as a force of deterrence for the defence of the nation, dedicating his whole life voluntarily on this soil behalf. Accordingly, he successfully completed the Special Forces Basic Course No. 06 and was blessed to be a member of the great lineage of successors of the Sri Lanka Army Special Forces on 10th October 1989.
Throughout his military career, he has served in Command, Staff, and Instructional appointments exemplifying his extraordinary capacities in respective appointments in the Sri Lanka Army. Especially, he intensively pledged over his assignments of combat duties during the humanitarian operation in North and East of the country for over 22 years. His command appointments include the Platoon Commander in 3rd Battalion of Gajaba Regiment, Group Commander in 1st Regiment of Special Forces, Squadron Second in Command, Bravo Squadron Commander, Senior Instructor of Special Forces Training School, Brigade Major of Special Forces Brigade, Second in Command of 3rd Regiment of Special Forces, Commanding Officer of 1st and 3rd Regiments of Special Forces, Commandant of Special Forces Training School, Commander of 593 Brigade, Center Commandant of Regimental Headquarters Special Forces, Commander of Special Forces Brigade, and Brigadier General Staff of the Security Forces Headquarters (Kilinochchi).
Further, he has held the appointment of General Officer Commanding of 57 and 14 Infantry Divisions in Kilinochchi and Colombo respectively. He served as the Commander of Security Forces (West) and (Jaffna) prior to his taking over duties as the Commandant of the Sri Lanka Army Volunteer Force.
Indeed, professional enhancement of the senior officer in local and overseas arenas enlightens career, providing stream of experiences and knowledge. Major General Senarath Yapa received the opportunity to participate in military training programmes such as Defence and Strategic Studies Course and Leadership Programmes under the Army Headquarters in Sri Lanka in 2010. As well, training programmes such as Basic Parachute Course (1991) in India, Commando Course (1992) in India, Young Officers' Course (1996) in India, Mid-Career Course (1996) in Pakistan, Military Observer Course (2012) in India, and Battalion Commanders' Course (2013) in China gathered an array of foreign experiences that heightens his military career.
To his credit, he has attended trainings, workshops, exercises and seminars which were under career disciplines that erudite him to a profound stance including Executive Combating Terrorism Seminar (2007) at the Near East South Asia Center for Strategic Studies (NESA) in USA, Indo - Sri Lanka Joint Military Training Exercise 'Mithra Shakthi' Planning Conference (2012) in India, China - Sri Lanka Special Joint Operations Exercise (Coordination and Planning Conference) (2015) in China, 1st International Seminar on " Operations in the Jungle " (2015) in Brazil, Trilateral Counter Terrorism Exercise by Special Forces of Sri Lanka (2015) in Maldives and Pakistan, Tri Lateral Exercise Eagle Dash - 1 (2016) in Pakistan, Physical Agility and Combat Efficiency System (2016) in Pakistan, and Land Force Talks United States Army (Pacific Command) (2017) in Hawaii, USA.
Major General Senarath Yapa is an alumnus of the National Defence University of Beijing in China, where he earned his second Master of Science in Strategic Military Studies. He obtained his initial Master of Science in Management (Defence) from the Kotalawala Defence University, Sri Lanka.
The senior officer has been adorned with gallantry awards of Rana Wickrama Padakkama (RWP) three times for individual or associated acts of bravery in the face of enemy and performed voluntarily. He was also decorated with Rana Sura Padakkama (RSP) four times for his distinguished conduct in the face of the enemy.
He is a recipient of Campaign Medals of East Humanitarian Operation Medal, North Humanitarian Operation Medal, Purna Bhumi Padakkama, North and East Operations Medal, and Riviresa Campaign Service Medal.
Further, he received 50th Independence Anniversary Medal in 1998, Sri Lanka Army 50th Anniversary Medal in 1999, Sri Lanka Armed Services Long Service Medal, Sewabhimani Medal, and Service Medal in honour of his distinguished service to the organization.
At present, the senior officer is performing duties as the Colonel of the Regiment of Sri Lanka Army Special Forces whilst serving as the Commandant of the Sri Lanka Army Volunteer Force.
Apart from his hard earnings as a professional outfit and a well experienced military leader as per the nature of duties vested on his shoulders, he became an environmentalist heading hand in hand with the national endevour of protecting the nature.
Major General Sujeewa Senarath Yapa is married to Mrs. Nayani Samanthi and they are blessed with two sons.