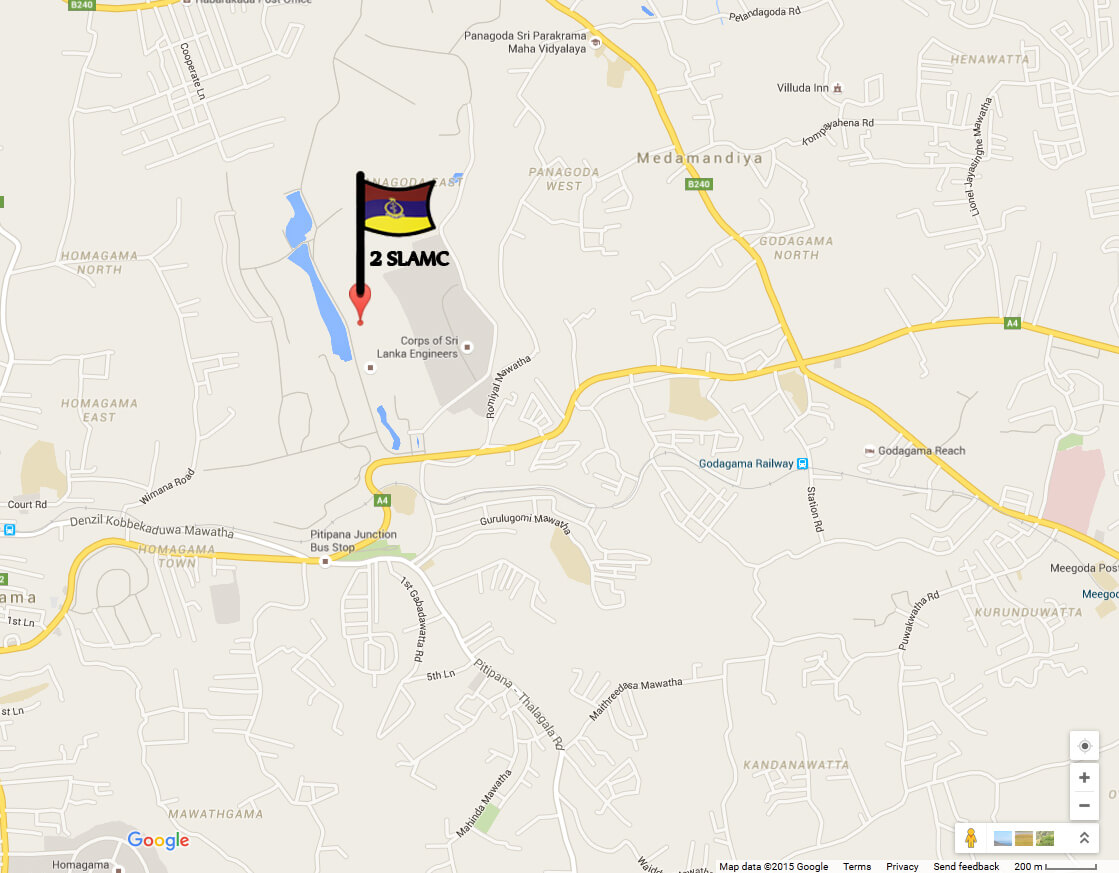 The History of 2nd Sri Lanka Army Medical Corps (Volunteer)
The Ceylon Infantry Volunteers the first ever security force consisting Ceylonese soldiers was raised on 01st April 1881 after Ceylon became a British Colony.
A stretcher bearer company consisting 08 Medical students was serving as a support unit to the Ceylon Infantry. It was made an independent unit on 29.07.1881 under the command of Surgeon T H F Tothill, a retired Medical Officer of the British Royal Army. This marks the beginning of the Ceylon Medical Corps. With the expansion of its members, the Bearer Company was detached from the Ceylon Infantry and became an independent Unit in 1911. The first Commanding Officer was senior Officer Colonel H G Thomas of this unit which comprised 10 Officers and 102 other ranks. The first RSM was the WO I F M Alwis.
The necessary training was given to unit members at the Colombo Medical College. Thus the Medical corps has maintained a close rapport with the Medical College.
The Ceylon Army was established on 10.10.1949 in terms with the Army Act No 17, 1949 which was approved in Parliament. Till then volunteer Medical Corps was the only Medical unit in the country. The same unit became the Ceylon Army Medical Corps, a regular unit on 21.10.1950. .
Commanding Officers
| | | |
| --- | --- | --- |
| Name | From | To |
| Surgeon THF Tothill | 1881 | 1888 |
| Major JL Vander Straatan | 1889 | 1898 |
| Major E Gratiaen | 1899 | 1899 |
| Major GJ Woutersz | 1899 | 1904 |
| Lt Col HG Thomas VD | 1905 | 1912 |
| Lt Col GW Vantwest VD | 1913 | 1918 |
| Lt Col David Rockwood VD | 1919 | 1922 |
| Lt Col SC Paul | 1923 | 1926 |
| Lt Col John Rockwood VD | 1927 | 1930 |
| Lt Col JSR Goonewardene VD | 1931 | 1934 |
| Lt Col Frank Gunasekera OBEED | 1935 | 1938 |
| Col VHL Anthonisz OBEED | 1939 | 1945 |
| Lt Col FG Smith OBEED | 1946 | 1949 |
| Lt Col Sidney F Jayawardene OBEED | 1950 | 1952 |
| Lt Col TR Jansen MBEED | 1953 | 1954 |
| Bvt Col E Soysa OBEED | 1955 | 1958 |
| Lt Col DA Kuruppu ED | 1959 | 1962 |
| Lt Col WD Ratnavale ED | 1963 | 1965 |
| Lt Col NF Gunasekera ED | 1966 | 1968 |
| Lt Col FD Wijesinghe ED | 1969 | 1971 |
| Lt Col PE Goonewardena ED | 1972 | 1974 |
| Bvt Col PAC De Silva | 1975 | 1977 |
| Bvt Col RH Peiries KSV | 1978 | 1979 |
| Bvt Col A Gabriel | 1980 | 1982 |
| Bvt Col RAH Goonerathne | 1983 | 1985 |
| Col SYDC Wickramasinghe | 1986 | 1988 |
| Col RC Rajapaksa | 1989 | 1990 |
| Col DR Karunarathne | 1991 | 1994 |
| Col USP Amarasekara | 1995 | 1998 |
| Col WASD Fernando | 1999 | 2002 |
| Col SWS Somaweera | 2003 | 2006.09.26 |
| Lt Col BL Ranasinghe | 2006.09.27 | 2010.11.29 |
| Lt Col DKSS Dodangoda RSP | 2010.11.30 | 2013.12.19 |
| Lt Col SAAS Kumara USP | 2013.12.20 | 2016.08.14 |
| Major RMDB Rajapaksa USP | 2016.08.15 | 2019.08.04 |
| Major RAAW Wijayasinghe | 2019.08.05 | 2021.12.13 |
| Major KDP De A Wijesinghe | 2021.12.14 | Upto Date |