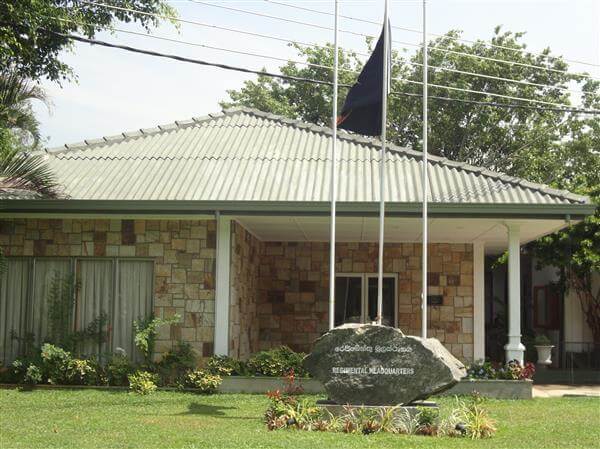 THE CEYLON ELECTRICAL AND MECHANICAL ENGINEERS
It is from amongst Ceylonese personnel who had served with the REME during World War II and subsequently demobilized at the end of the war that personnel to make up the nucleus of the other rank structure of the Corps of EME were enlisted..
To quote from any Army journal published in 1952 on the formation of the then CEME:- "The Corps of Ceylon Electrical & Mechanical Engineers was born on the 12th December 1949 with the recruitment of 2/Lieutenant R.A.J Ratnam CEME..
The CEME first started operation as an infant CEME Workshop situated in the Army Headquarters premises in the buildings now occupied by the Defence college and came under the advisory control of Capt Roy Davis REME. Activities were necessarily confined to minor repairs to MT vehicles, Armaments and Small Arms and the manufacture of a very large training stores commitment..
The Unit moved to its present side at Kew Road, Slave Island on the 1st September 1950. This site had previously been occupied by the Command Workshops REME and whilst CEME were fortunate to obtain the buildings and locality we were only partially successful with regard to the necessary workshop machinery and equipment, as these had already mostly been back loaded to other theatres before the hand over. The CEME strength when moving into the new premises was 01 British Officer seconded from the REME, 02 Ceylonese CEME Officers, 04 seconded British REME NCOs, carpenters. Our present strength is four CEME Officers and 109 other Ranks with 18 NCOs and junior ranks detached for first line work with other units.
At the inception the first to proceed on training were 01 Sergeant (HD Davis and 02 L/Cpls (De Silva QR and Bucker TW) to Singapore and two Officers to the UK. One Ex RMAS Cadet is now under training with the REME and a further 7 CEME Sergeants are also undergoing technical training in various trades in the UK for classification as Armament Artificers in their various trades. Two of these Sergeants are products of the Army Recruit Training Depot from DLA, and from reports received are doing very well in their training.
The Army Workshop CEME as it is now called should at this stage have been under taking only Second Echelon repair, but this has not been possible due to the result that most jobs turn out to be third or fourth Echelon work and more often the latter, which means we manufactured parts although not yet equipped to do so.
Despite the shortage of materials good progress has been made to the training of Technical personnel mainly due to the enthusiasm and drive of the Officers and Senior NCOs of CEME. If the present progress continues there can be no doubt that workshop services in the Army should be all that is desired within the next few years. This fact is sometimes lost site of by critics who forget that directly enlisted tradesmen are comparatively few and the training of capable tradesmen a long and painstaking procedure. The moral of the men has been fairly high chiefly due to interest which does not flag as the urge to learn is ever present in our young soldiers.
The task of the CEME in firstly to provide a service and secondary to turn out useful citizens and to this end stress is always on the education of tradesman"
An extract from an Army Journal 1952 by Major NV Mattysz
ENLISTMENTS OF OTHER RANKS
The first four other Ranks to be enlisted into CEME were Sgt S Chinniah from RASC, Sgt DJ Attanayake from CLI, Sgt JN Antony RASC and Sgt HD Davis from the RA. The First CEME workshop was situated in a building in AHQ.
The first four other Ranks to be enlisted into CEME were Sgt S Chinniah from RASC, Sgt DJ Attanayake from CLI, Sgt JN Antony RASC and Sgt HD Davis from the RA. The First CEME workshop was situated in a building in AHQ.
At that time CEME consist with Dte of EME, EME trade shoot and above field Wksps and Base Wksp Colombo. At the beging of 1990 SLEME war consist with 92 regular officers, 2151 OR's and 17 Vol officers and 390 OR's. This made SLEME to raise individual battalions to provide a better EME service to the Army.
1st Battalion SLEME was raise in 01 July 1992 and was located at Panagoda.
2nd Battalion SLEME was formed in 01 November 1991 in Saliyapura, Anuradhapura. Which was previously functioned as 105 Medium Workshop. Then the field workshops Palali, Mannar, Trincomalee, Batticoloa, Vavniya, Welioya, Poonarine was under command to 2 SLEME.
Then 3rd Battalion SLEME was formed in 10 November 1996 Army Cantontment – Minneriya and filed workshop in Estrus area were under command to the 3rd Battalion SLEME. 4th Battalion SLEME was formed in 13 August 2009 by converting OC Tps SLEME in Kankasanthurai.
5th Battalion SLEME was formed by converting 2 SLEME in 19 April 2005. 2 SLEME became the only volunteer battalion as 2(V) SLEME at Diyatalawa.
There after defeating the LTTE in 18 May 2009 SLEME troops were spreaded over the Northern area therefore the requirement of forming a battalion was came. As a result 6th battalion SLEME was raised in 28 December 2009 in Mullative.
There after 7th Battalion SLEME was raised in Kilinochchi 22 December 2010 to functions in Northern area.
To extend the SLEME functionality requirement of Base Wksp were found. There for Base Wksp Colombo 01 January 1991, Base Wksp Udawalawe 01 December 1990 and Base Wksp Katubedda 01 March 1993 was formed and developed up to now.
As Army used the Modern Tanks and Artillery Guns to provide a effective repair support to them SLEME Arty Wksp at Minneriya was formed in 1991 and SLEME Armoured Battalion was formed.
Then the EME School was situated at Colombo from 1951 and it was transfer to Gannoruwa area in 01 January 1991 for better training.
Form 1949 to today SLEME held come a long way to improve and spread their troops to provide a better service to the SL Army.
CORPS MARCH LILLIBULLERO
SLEME MARCH IS THE OLD REME MARCH
BEFORE IT WAS AMENDED TO
"LILLIBULLERO AUPRES DE MA BLONDE"

LILLIBULLERO AND HEIGH HO FROM THE DWARE SONG IN SNOW WHITE AND THE SEVEN DWARES IS PLAYED TOGETHER IN THE GRANDIOSE. THE FORMER SIGNIFIES THE FIGHTING AND THE LATTER THE WORKING ACTIVITIES OF THE CORP, THAT IS THE EME GOING INTO BATTLE WITH TOOL KITS AT THE RECKLY.
CORPS MOTTO ARTE ET MARTE
IT MECINS "WITH SKILL TO BATTLE