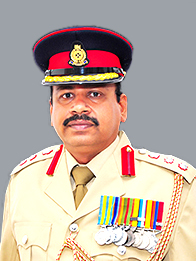 BRIG W A A C P WERAGODA USP
Brig W A A C P Weragoda USP was reappointed as the 32nd Centre Commandant of the Sri Lanka Army General Service Corps effective from 05 March 2018. He was enlisted to the Sri Lanka Army on 27th October 1986 and commissioned to the Sri Lanka Army General Service Corps as a Second Lieutenant. He was subsequently promoted to the rank of Lieutenant (1989), Captain (1991), Major (1995), Lieutenant Colonel (2006). He was elevated to the rank of Colonel on 27th October 2011.Brig W A A C P Weragoda USP counts over 30 years of distinguished service and has wide ranging experience in various command, Staff and instructional appointments. Before been appointed to his current appointment he Commanded 2 SLAGSC (V) and was the Brig AQ SFHQ (E). He has actively contributed to counter insurgency operations against the LTTE including Rivirasa Operation and North & East humanitarian operations.
He is awarded with Utthama Sewa Padakkama (USP) for his unblemished military carrier. To his credit, he has attended local and foreign courses of academic and professional value, including the Officers' Regimental Signal Course, Officers' Mid Carrer Unit Admin Course in Sri Lanka and officers' Transport Management Course in India as well as Military Training Course in Pakistan. Colonel Chanaka Weragoda is a proud product of the prestigious Kingswood College, Kandy. He is married to Mrs. Inoka Weragoda, they are blessed with two sons and a daughter.