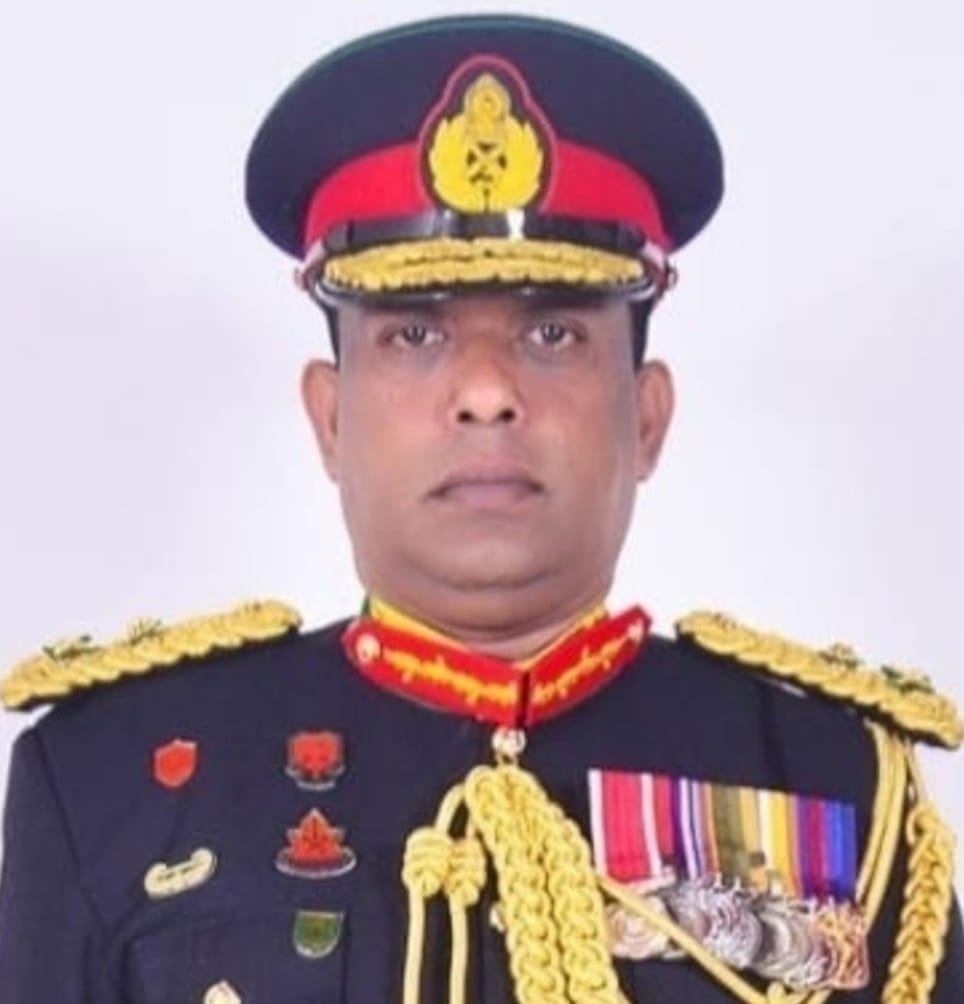 MAJOR GENERAL C D RANASINGHE RWP RSP
Major General C D Ranasinghe RWP RSP assumed duties as the 23rd Commander of Security Forces (Wanni) on 03 Oct 2021.
Major General C D Ranasinghe RWP RSP was born on the 31st of October 1968, in the city of Colombo to late Mr. Ranjith Weersoma Ranasinghe and Mrs. Suwarna Upashily Godakanda. He is a proud product of Darmapala College Pannipitiya. Completion of his school education, he joined the Sri Lanka Army on the 16th of March 1987.
A young Champaka Ranasinghe underwent his basic Officer Cadet training at the prestigious Sri Lanka Military Academy in Diyathalawa and upon successful completion of the training, was commissioned to the Sri Lanka Army Regular Force with Intake 27 on the 10th of December 1988. Later he was posted to the 4th Battalion of the Gajaba Regiment and as a young officer he was able to win the hearts and minds of his superiors and subordinates.
During his illustrious Military Career, he has held various command and staff appointments in different capacities in command with the 4 GR, such as Platoon Commander and Officer Commanding, 2nd In Command in 10 and 16 GR. Later he was appointed as the Commanding Officer of the 14 GR and in various command positions in the 3-decade long war against the terrorists. He was later appointed to take over Command of 652, 662 and 532 Brigades over a period of 5 years and General Officer Commanding of the 23 and 58 Infantry Divisions.
Staff appointments held by him have been Adjutant at 4 GR, Brigade Major at 524 Brigade, Officer Commanding Infantry Training Centre - Minneriya, Staff Officer II at Transit Camp - Anuradhapura, Commandant of the Entry and Exit Camp - Omanthai, Staff Officer I at Training School - Kothmale, Colonel General Staff at 64 Infantry Division - Oddusudan and Colonel (A/Q) at 11 Division. He held appointments as the Officer Commanding and Officer instructor of Weapon Group and Commandant of Infantry Training Centre - Minneriya.. He had taken part in major operations such as.
Second Eelama Operation
Thrivida Balaya Operation
Sathjaya I, II, III Operations
Riviresa Operation
Jayasikuru Operation
Agnikeela Operation
Akunu Pahara Operation
Jaya Shakthi Operation
North & East Operation
Humanitarian Operation Wanni
He has been awarded with the Rana Wickrama Padakkama to few times for his acts of bravery in the face of the enemy which were performed voluntarily, the Rana Sura Padakkama to few times for his valor and distinguished conduct in the battlefield. In addition, he has also received the award of Desha Puthra Sammanaya for having being wounded during action against the enemy. Reminiscing on his journeys in his military life, Major General Campaka Ranasinghe has had the opportunity to enhance his knowledge by having successfully completing a number of local and overseas military courses such as the Officers' Weapon Course in Bangladesh in the year 1995, Young Officers Course in Bangladesh in the year 1996, Junior Command Course in India in the year 1999, Senior Command Course in India in the year 2013, Battalion Support Weapon Course at ITC - Minneriya, Arty Observation Course at ITC - Minneriya and Unit Admin Course at Panagoda .
Today, a young Officer Cadet who joined the Army in 1987, owing to his unblemished, outstanding and impeccable conduct, has roused up in the ranks to the rank of Major General of the Sri Lanka Army and assuming duties as the Commander Security Forces (Wanni) and performs duties as the Colonel of the Regiment of the Sri Lanka Army Women Crops.