To honour and perpetuate the gallant sacrifices made in combat by Officer and Soldier alike and to cater to the welfare and well-being of the next-of-kin of the victims of the war, the Army added another gem in its crown by inaugurating The Seva Vanitha (Women's Welfare) Organization in 1985 by the Wives of serving Army Officers.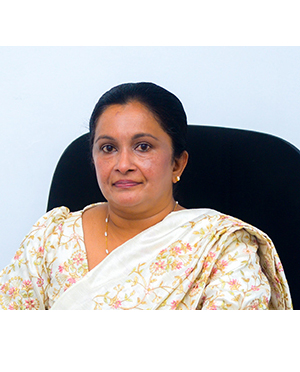 Mrs Manori Welagedara
The President of Seva Vanitha Branch
The Gemunu Watch too responded and formed its own Seva Vanitha Organization to cater more intensively and personally to the welfare of the families of the its officers and other ranks.
The war did not affect the life of the soldier only but it took its toll on the lives of their families as well. The need to support these families was great, hence the birth of the Seva Vanitha.
The Wives of the gallant officers and soldiers responded positively to the great task in hand. Their determination and commitment to enhance existing welfare measures and initiate new avenues of help contributed considerably to allay the mental, physical and emotional turmoil the families had to endure.
The Seva Vanitha Branch of the Gemunu Watch conducted and continue to conduct many programmes and projects efficiently which are instrumental in benefiting the unfortunate families that have been victimized by the war.
The Seva Vanitha, was/is a great morale booster to the fighting soldier, knowing that their families would be cared for, would not be alone greatly relieved them emotionally, thus enabling them to concentrate on the duties, tasks and responsibilities demanded of them for the security of the Motherland.
The President of the Seva Vanitha is the wife of the Colonel of the Regiment.
| | | |
| --- | --- | --- |
| | | |