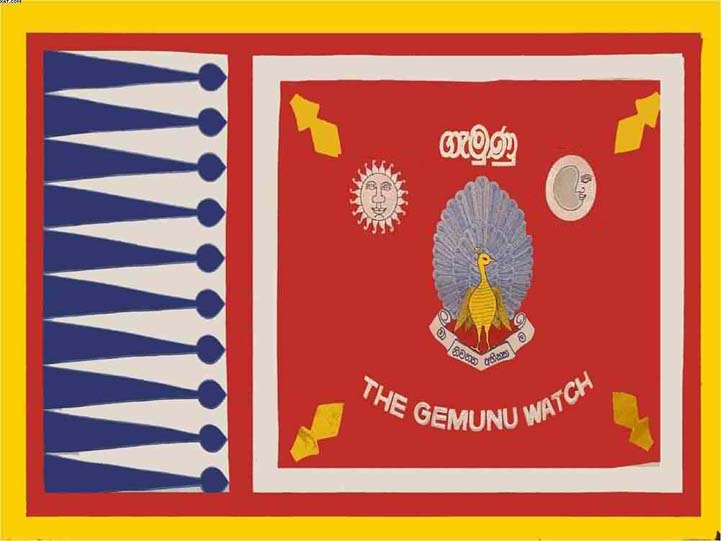 The first Commanding Officer of the Gemunu Watch, Lieut. Colonel. John Halangode, in his quest to design a Flag for the Battalion, thought it fit to adopt the flag designed by Mr. Geoffry Bawa for the Ruhuna Regiment, which was raised earlier and disbanded in 1956.
The flag with the resplendent Peacock with outstretched feathers, thus became the flag of the new Battalion.
Additions to the new flag based on Mr. Bawa's design for the Ruhuna Regiment included Ten Spears, and the Sun and the Moon, to symbolize that soldiers of the Gemunu Watch will be ready to serve the Nation for eternity.
The  Ten  Spears:  The Ten Spears that appear in Blue on a White background represent the Ten Generals who served in the Army led by King Dutugemunu to victory in the epic battle against King Elara. These Ten Generals were adept in various Arts of Ancient Warfare. These Dasa Maha Yodhayas [Ten Great Warriors] were named, Nandimitra, Suranimala, Mahasena, Gotaimbara, Theraputtabhaya, Bharana, Velusumana, Kanchadeva, Pussadeva and Labhiya-Wasabha.
The  Sun  and  the  Moon:  The depiction of the Sun and Moon in the Flag indicates the fact that the Soldiers of the Gemunu Watch are tasked to serve the Nation 24 hours a day. It was an ancient custom to include the Sun and the Moon in Banners and Flags of the Military and Royalty. These emblems were carried in the Royal Lion Banner of King Dutugemunu to signify Eternity.
The  Peacock:  The Peacock is the most beautiful bird in the world. It is proud and of regal disposition. This magnificent bird is of great significance. Legend has it that this bird was used as the Vehicle of God Skanda [God Kataragama], the guardian deity of Ruhuna. King Dutugemunu regarded the Peacock with utmost respect and importance.
The  Velayuddhas:  This was a weapon used in ancient times by Sinhala Warriors especially during the reign of King Dutugemunu. There is also common belief that the Velayuddha or  Spear was used by King Mahasena, the great grandfather of King Dutugemunu, who is popularly venerated as the guardian deity of Ruhuna, God Kataragama. The four Velayuddhas positioned at the four corners, is symbolic of all round protection, meaning of course that the Country is protected from every direction. The Velayuddhas point inwards, towards the Regimental Insignia; whilst symbolizing  the Arm of Infantry, it also implies that the Regiment pledges to protect, defend and secure the Country from every direction.