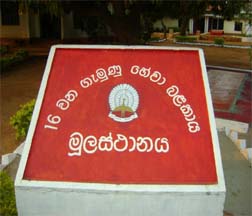 16 [V] GW was inaugurated at the Regimental Centre of the Gemunu Watch in Kuruwita, on 9th. May 2008. Lieut. Colonel. S.G. Kahawevithana was appointed as its first Commanding Officer.
Officers and Other Ranks of all other existing Volunteer Battalions of the Gemunu Watch Regiment formed the nucleus of this Unit.
16 [V] GW was intimately involved in combat action since its inception. The Unit possesses a proud record of being the only Volunteer Battalion of the Gemunu Watch to be deployed in offensive action against the Tamil Militants during the Humanitarian Operations conducted. They were also deployed to restore normalcy in areas devastated due to natural disasters and other national calamities.
01 Other Ranker made the supreme sacrifice for the Motherland.
01 Officer and 02 Other Rankers have been permanently disabled in combat action against the Tamil Terrorists.
The 6th anniversary of 16(V) GW was held at Kankasanthurai battalion HQ on 09.05.2014

Telippalei Hospital of Patient gave to lunch packet at 2015.08.23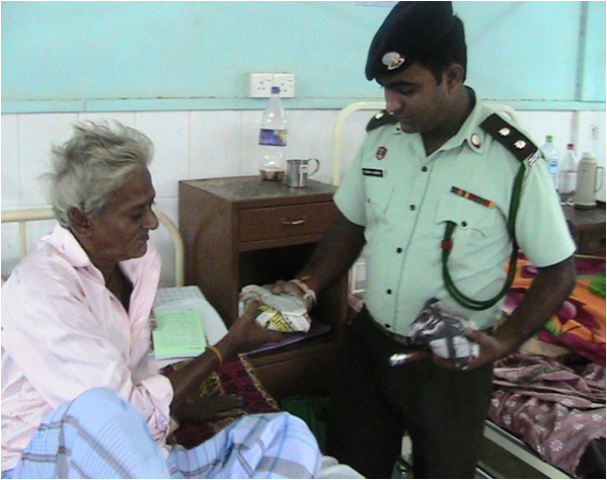 | | | | | |
| --- | --- | --- | --- | --- |
| Srl No | Rank | Name | From | To |
| 1 | Lt Col | SG Kahawevithana | 2008.03.10 | 2012.05.22  |
| 2 | Maj | NU Wedaarachchi | 2012.05.22 | 2014.09.23 |
| 3 | Maj | DVV Deshapriya | 2014.09.23 | 2018.04.09 |
| 3 | Maj | SPA Senadheera | 2018.04.09 | Up to Date |