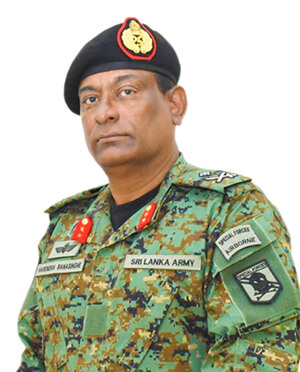 I as the first Commander of the newly Raised 1 Corps of the Sri Lanka Army pen this message on the occasion of its inauguration with great sense of pride and honour. At the outset, I very humbly extend my gratefulness and gratitude to the Chief of Defence Staff and Commander of the Sri Lanka Army, General Shavendra Silva WWV RWP RSP VSV USP ndc psc MPhil for the trust and confidence he had on me to shoulder this glamorous yet very responsible appointment. I along with my staff and all troops of this elite corps swear to strive hard in achieving objectives set by the Commander of the Army on raising the 1 Corps.
Although, Sri Lanka Army has been maintaining a Reserve Strike Force and Special Operations Forces independently for a considerable time, "1 Corps" being a brainchild of the Commander of the Sri Lanka Army became a reality through his guidance promulgated in Sri Lanka Army Way Forward Strategy 2020-2025. Thus this first corps of the Sri Lanka Army being the highest tactical fighting formation came in to being marking a significant milestone of the recent military history. This has necessitated further in order to strengthening and unifying aforesaid components under one command to achieve efficiency and effectiveness in the face of contemporary security dynamics.
The threats posed by various elements towards the nation is still thriving. Separatism remains a foremost threat and the regional and global level extremism and transnational crimes have cascading effects towards Sri Lanka. Apart from these, pandemics, natural disasters and many other traditional and non-traditional threats too persist. Today, Sri Lanka Army being the most sought service of the nation has proven its noble service in diverse fields. Hence, this newly raised vibrant, cohesive and readily available reserve force will certainly be a force multiplier and a great strength to ensure national security.
My prime endeavor as the Commander of this Corps, will be to knit Reserve Strike Forces and Special Operations Forces under unified command and to further develop versatile skills of these elite forces in order to fight across the entire spectrum of conflicts.